Stainless Steel - Tubular Utility Carts
Lakeside All-Welded Stainless Steel Carts
Tubular frame carts are specifically designed for ease of cleaning and general maintenance.
Double ball bearing swivel casters provide enhanced control and maneuverability.
Shelf replacement is easily accomplished. 400 series carts are stainless with chrome legs.
200 series carts are all stainless. All rubber swivel casters. Supplied fully assembled.

* Can be shipped U.P.S.

Back to Stainless Steel Carts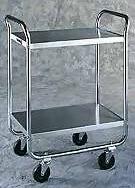 Fully Assembled Tubular Utility Carts
Stainless With Chrome Legs
Model
No.
Overall
Size (in.)
W x L x H
Shelf
Size
(in.)
Number
Of
Shelves
Shelf
Clearance
(in.)
Capacity
(lbs.)
Caster
Size
(in.)
Wgt
(lbs.)
Price Each
| | | | | | | | | |
| --- | --- | --- | --- | --- | --- | --- | --- | --- |
| 472* | 17-1/2 x 27 x 35-3/4 | 15-1/2 x 24 | 2 | 18-3/4 | 400 | 4 | 32 | $ 592.70 |
| 492 | 23 x 36 x 40-1/8 | 21 x 33 | 2 | 21-1/2 | 400 | 5 | 53 | $ 726.00 |
| 473* | 17-1/2 x 27 x 35-3/4 | 15-1/2 x 24 | 3 | 9-1/2 | 400 | 4 | 37 | $ 661.35 |
| 493* | 23 x 36 x 40-1/8 | 21 x 33 | 3 | 10-3/4 | 400 | 5 | 63 | $ 874.00 |
Fully Assembled Tubular Utility Carts - All Stainless
| | | | | | | | | |
| --- | --- | --- | --- | --- | --- | --- | --- | --- |
| 210* | 17-1/2 x 27 x 35-3/4 | 15-1/2 x 24 | 2 | 18-3/4 | 400 | 4 | 31 | $ 750.00 |
| 221 | 20 x 30 x 35-3/4 | 18 x 27 | 2 | 18-3/4 | 400 | 4 | 36 | $ 754.00 |
| 243 | 22 x 36 x 40-5/8 | 21 x 33 | 2 | 21-1/2 | 400 | 5 | 55 | $ 902.00 |
| 211* | 17-1/2 x 27 x 35-3/4 | 15-1/2 x 24 | 3 | 9-1/2 | 400 | 4 | 36 | $ 779.35 |
| 222* | 20 x 30 x 35-3/4 | 18 x 27 | 3 | 9-1/2 | 400 | 4 | 43 | $ 861.35 |
| 244 | 22 x 36 x 40-5/8 | 21 x 33 | 3 | 10-3/4 | 400 | 5 | 66 | $ 1,077.35 |
copyright equipmentandsupply 2013 Lakeside - Last Updated 10/31/18