Rubbermaid Utility Carts
Utility Carts by Rubbermaid used in a variety of applications from office and institutional, manufacturing plants, warehousing, schools, food service, hospitals, nursing homes, tool cribs, and many more.
4091 X-tra Utility Cart, Open Sided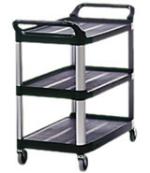 X-tra Utility Carts
Sized to carry large loads.
Large shelves hold various equipment and supplies.
300 lbs. (136.1 kg) total load capacity, 100 lbs. (45.4 kg) per shelf.
Attractive styling ideal for ''front-of-house'' use.
Available with enclosed ends or enclosed on three sides for concealing loads.
Model: #4091
Description: X-tra Utility Cart, Open Sided
Dimensions: 40 5/8" l x 20" w x 37 13/16" h
Shipping Weight: 43.5#
Capacity: 300 lb
Price..................$ 364.00 /ea

Colors: Red, White

Shipping Points across the US!

PFI Last updated 8/11/15

Copyright Equipment and Supply Central 2010